Beautiful wallpapers for your Android smartphone, iPhone & other cell phones /mobile phones. Also write your own text on wallpapers before downloading!
हमारे बड़े भाई का इन्डोरामा मे स्वागत है | पूणे पाण्डेय परिवार आपका हार्दिक स्वागत करता है | सचिन तिवारी जी मोनू भाई | enjoy masti & happines of you come in my home.i am many many feel good and joyfull . my elder bro .....monu bhai edited by .....पं०कमलाहरिहर प्रशाद पाण्डेय ||® Text Wallpaper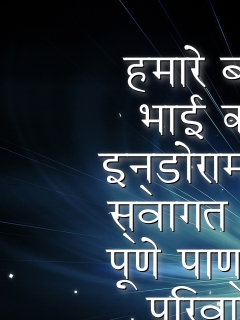 Are you a Blogger or a Site owner? Interested in writing a review for us or a link exchange?
Contact us